Everyone wants to believe that when the economy, and businesses as a whole, are on an upswing, it'll stay that way for the long-term.
Unfortunately, that isn't the case. Whether you're a business owner or an employee, everyone must take their head out of the clouds and realize that sooner or later, the economy could see a recession.
While predicting a recession is difficult, preparing for one is not, especially when it's done sooner rather than later. Because of this, it's best to have a plan in place for when, not if, a recession occurs.
Research shows companies that implement a plan to increase cost efficiency have a higher chance of not only surviving in a recession, but thriving. Getting ahead of the recession curve eliminates the need to scramble for survival when it's upon us. If your business could use some help to prepare for what likely lies ahead-- look no further than G2 Track.
G2 Track makes it easy for businesses to manage software spend, contracts, account usage, and compliance, all in one place. By doing this, G2 Track helps companies make cost-efficient decisions in a non-destructive way, making it an important solution not only during a recession but also in any kind of economic crisis.
Since every company is going to enter a recession from a different starting point, the right plan will only work if you know where your company stands from a financial point. If you aren't sure where to start, or how to go about making cost-effective decisions, let G2 Track guide you through these four steps so you can be sure your business remains strong both during and after an economic crisis.
Step 1: Take inventory of your resources
Before you can be sure of the decisions you need to make to potentially cut costs, you need to know exactly what resources your teams are using and which software solutions are taking up the majority of your budget.
With G2 Track, you can easily accomplish this by looking at what is being spent within your budget, thanks to its world-class integrations within your financial systems. In one concise dashboard, G2 Track allows you to visualize a complete list of the software each team is using.
G2 Track can answer questions like:
Which software or app is money being spent on that isn't being used?
Which software is approaching a contract renewal?
Are any programs obsolete or out of date?
Are there any instances of shadow IT at the company?
G2 Track makes taking inventory of your resources simple and concise by syncing with your company's financial data. When this occurs, you'll be able to know how much of your budget is being spent on each product on a monthly basis. G2 Track also shows which department the software is assigned to, so you can make sure you know who's responsible for that portion of the budget.
Step 2: Prioritize which resources are the most valuable
Next, you'll take the questions from step one and answer them in step two. Once you have the answers to the questions above, you can compile a list of which software solutions in your tech stack are the most valuable to your business and its employees.
In this step, G2 Track gives you more understanding of how your resources are being used. Thanks to the single-sign-on (SSO) system, you can see exactly who's logging into each software tool and how often these logins take place. Having this information provides an understanding of whether or not your team is really using the software you're paying for and how critical it is to the success of your business.
In this step, G2 Track answers questions like:
Which department is using the most apps during their day-to-day responsibilities?
Which software or app does your team spend the most amount of time using?
Step 3: Determine where you can cut spend
Step three is a turning point in making cost-effective decisions, but you can't do so without coming to clear and concrete answers during steps one and two. These answers are going to tell you where you should cut spending first.
First, take a look at the G2 Track dashboard and see which tools and licenses aren't being used by your teams, and cut those first. As an example, the Track dashboard showcases an easy to read data visualization screen of which apps your business uses, how often, and how much you're spending on each.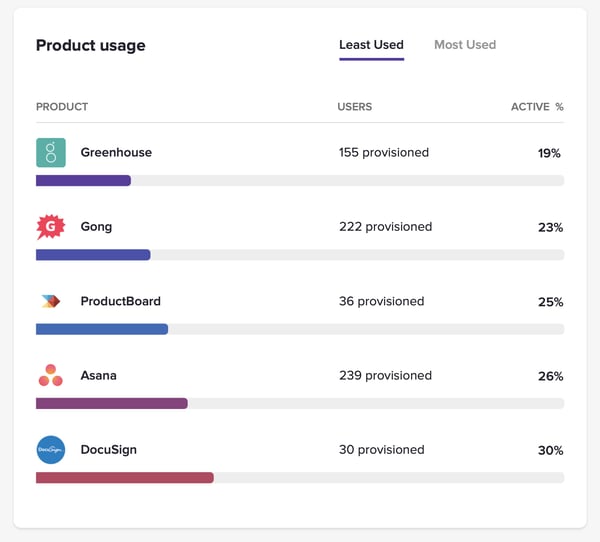 Next, find out which tools are duplicates of each other, or ones that essentially have the same features, and consolidate where you can. For instance, if G2 Track is showing you that your HR team and your marketing team are using two different CRM software solutions, consolidate into one that will satisfy the needs of both teams.
Then, once G2 Track has helped you see the obvious answers for what tool you can cut costs on, consider crafting a grid that lays out the cost against which tools are critical to the business. This is where you'll be able to narrow down where you can eliminate spending on software that's considered high cost/low critical first.
For example, if G2 Track is showing you that your most expensive software solution is only used by 5% of your employees, there's a good chance you can find its features in a more cost-effective tool.
Related: On average, businesses waste more than $40 billion on unused SaaS tools every year.
As you go about this and answer the questions from step two, think about how you want your business to look at the end of a downturn, or five years after the fact. Pinpoint which resources you have now that'll get you there. This is considered a future-back approach, which shows exactly where, or in what software, you need to invest that will best support the business.
Step 4: Compare your spend to your peers
We're all guilty of showing our tech stack some bias, or favoritism. It's easy to think that the software we've been using for years is truly the best, even when it's not.
New software is being released at a rapid pace, so chances are if you haven't taken a look at what else is out there, you could be missing something that could make a world of a difference -- especially if that new tool is less expensive than the one your team is using.
Find out what your peers are spending on some of their favorite, must-have tools. For instance, if you find that their social media marketing software does more than the one you've been using for years, at a lower price, it could be time to make the switch.
Act now, with G2 Track
Whether it's an approaching financial crisis or a recession, companies that rely on software can move faster to simplify and cut down on spending thanks to software like G2 Track.
The businesses that are standing after a recession are going to be the ones that acted fast. Whether that be deploying new cost-effective technologies or taking a look at where smarter decisions can be made, the time to make a change to your spending is now.
In fact, through the end of April, get a jump start on making those cost-effective decisions by utilizing G2 Track, free for the first 90 days, so you can access your SaaS technology in real-time. Just connect the G2 Track API to your financial and single sign-on systems, and start spending wisely.
A clear plan is one that lays out exactly how your business will outperform your competitors during a potential recession and beyond. Let G2 Track create that plan for you.