Gone are the days of owning something after you've paid for it – we're living in the days of renting nearly everything we own in some form or another.
Everything from your Netflix subscription to your Adobe Suite subscription at work is part of a transactional business model known as software as a service (SaaS). And while SaaS provides you with the unique flexibility to jump between providers when needed, it presents unique challenges as well.
When it comes to SaaS, many businesses are faced with the challenge of budgeting according to their needs.
How to start budgeting for SaaS:
Start with what you already spend
Loop in key stakeholders
Set your budget
Research your software options
Find and eliminate duplicate software
Review current contracts
Invest in a SaaS spend tool
Analyze and adjust
Whether you're new to creating a SaaS budget or you're a seasoned pro, there's always something to learn about the best ways to buy software. Our guide will go over each step of the process, common mistakes to avoid, and more.
How to build a SaaS budget from scratch
You're probably not building a SaaS budget from absolute scratch. Chances are you already spend a good deal of money on SaaS and you're in need of a serious reorganizing.
This step-by-step process will help you get a handle on your SaaS spend and guide you toward optimizing it.
1. Start with what you already spend
The first place to start is taking an inventory of what you already spend your money on. You likely already have a laundry list of SaaS subscriptions that have been around the company longer than you have. Spend some time familiarizing yourself with the software you already pay for.
In addition to the amount of money you already spend on SaaS, you should also check:
Term lengths of your current contracts
How many seats you get for each SaaS
How often these SaaS are used
Who manages the SaaS for each department
This will give you a more clear snapshot of your SaaS situation. Maybe you're spending the right amount of money but you need more seats, or you might be paying for a service that nobody uses. These are the things you'll discover when you take an inventory of your SaaS spend.
2. Loop in key stakeholders
Once you've pinpointed your key stakeholders in the first step, you can bring them into the conversation around SaaS spend. Get everyone together and talk candidly about how much you currently spend on SaaS. Are you using too much or too little of your budget on these subscriptions? Be candid and open in your discussion.
Which department is in charge of managing SaaS spend?
No single department owns SaaS line items, which is why budgeting for SaaS is a cross-functional effort. It's important to decide which employees in each department will handle the line-items for their team and manage everything.
Investing in a SaaS spend software solution like G2 Track can help. Buying a software to manage a software might seem counterproductive at first, but being able to track all of your contracts, tag stakeholders, monitor seats, and track your annual spend will save you time and money in the long run.
3. Set your budget
The next step in the process is setting your budget. This is the tricky part, because while there are studies and think-pieces that will tell you how much to spend on SaaS, the truth is that only you can decide what the right number is.
If you are looking for some hard data, however, Deloitte estimates that CIOs are expected to double their spend on cloud-based services, from 22% to 44%, over the next three years.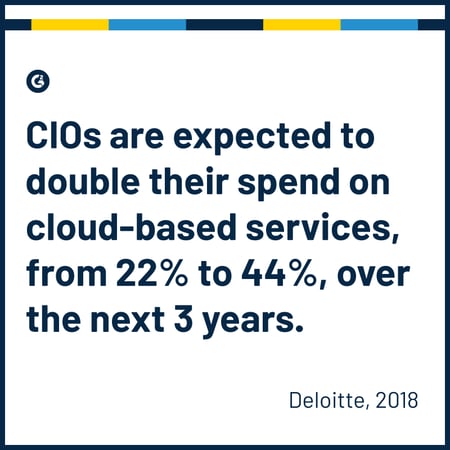 Go with your gut. Ask yourself what programs you absolutely need to do your job the right way. Then figure out how much those programs usually run before finally deciding on a number. Focus on the functionality, not the finances. The right SaaS software will pay for itself.
4. Research your software options
Once you've pinpointed what software you need for the next fiscal year, it's time to do some shopping. The first step in picking the right software is researching. Thanks to the internet, this step can be completed without having to jump on sales calls. You can use your peers to find the right software for your needs.
Websites like G2 allow you to compare the most popular software options side by side for free to make sure you're getting the best deal. You can also read verified user reviews on G2 that show what real users enjoy about each product.
5. Find and eliminate duplicate software
One of the biggest mistakes people make is having multiple software solutions that do the same thing. There are many software solutions that provide more than one function and it's crucial that you trim your SaaS spend down to only the essentials.
Here are a few ways you can eliminate duplicate software:
Monitor which software solutions do the same thing
Check if different departments use similar products
Communicate across teams and offices
Find underused software solutions
Eliminating duplicate services saves you money and frees up your budget for more robust SaaS solutions. This is an important step to complete before purchasing anything new for your business.
6. Review current contracts
There's a good chance you'll be looking to switch SaaS providers before your current contract has expired. Reviewing your current contracts and planning on when to make the switch is important for your SaaS budgeting process.
Establishing a contract management process can help you stay on top of your SaaS budget. It helps you avoid missing deadlines, keeps track of the legal process, and ensures you're getting the best deal possible.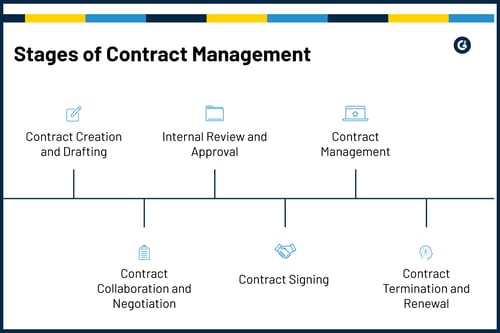 Some companies like to use a contract management software solution for this process. Recently, SaaS spend management software solutions have begun including contract management into their platform to eliminate the need for duplicate services. If you're looking to invest in a SaaS spend tool, you might be able to include contract management into your services.
7. Invest in a SaaS spend tool
The real reason most people struggle with SaaS budgeting is that it's too much information to track by yourself. Multiple seats, countless account managers, and endless budget line-items. It's so much information that you could hire a single employee to track just your SaaS budget and spend if you had the cash-flow to do so.
Most companies don't have that kind of spend available. Which is why many invest in a SaaS spend management tool.
SaaS spend management tools like G2 Track helps organizations streamline and optimize internal software spend, utilization, contracts and compliance by effortlessly housing and visualizing your technology stack.
Everything is automated so that you can spend less time managing SaaS spend and more time doing your job. It's a lifesaver for teams of any level. For start-ups, it allows you to put the little things on the back burner so that you can focus on hypergrowth. For enterprise companies, it tracks the complicated webs between departments, managers, and different offices.
8. Analyze and adjust
There's a chance you don't get things right on the first try, and that's okay!
Maybe you thought you'd use a software solution more than you do. Or maybe you underestimated how many seats you'd need for a SaaS software. Tracking your SaaS spend after you've made your purchases is crucial to optimizing your SaaS budget.
Here are some questions to ask yourself:
Are we using these SaaS solutions enough to justify the cost?
Is there a benefit to increasing our spend with a SaaS provider?
Do we have enough seats for this SaaS solution?
Could any of these products be classified as duplicates?
Adjust as you go. Remember, the right SaaS solution for your company today might not be the right solution three years from now. You need to keep an eye on how SaaS software grows with your company. Always be looking for ways to improve.
Common SaaS budgeting mistakes to avoid
Your SaaS budgeting strategy will look different depending on the size of your company. While not every strategy works for every business, there is a wrong way to budget for SaaS. These common mistakes can set you back time and money, so it's important to avoid them!
1. Don't undersell or underestimate budget
One common mistake people make when creating a SaaS budgeting is not asking for enough money during the budgeting process. People often think if they ask for what they need, their request will get rejected. You cannot low-ball your financial forecast when it comes to SaaS. You get what you pay for, so be sure to ask for what you need!
One way to increase your chances of getting the budget you need is doing your research. Come prepared with answers to these questions:
What crucial business functions does your team perform and how will this software help?
How will this software make your team more efficient?
What's the ROI of investing in this software?
Do your competitors use this or a similar software?
What do other users say about this software?
If you can prove the business case of a certain SaaS to whoever is in charge of the budget, you are more likely to get what you want.
2. Don't create your budget in a silo
The chances that you need a software that nobody else in your organization might use is almost certainly zero. SaaS solutions are designed with multi-team use in mind.
That means if you don't include leadership from other departments you're more likely to spend money on duplicate software solutions that waste money. Bring other teams into the conversation when budgeting for SaaS. There's also a better chance of having your budget approved if more than one department can use it.
3. Avoid buying software that can't grow with you
Don't be tricked into purchasing a short-sighted software solution. You want to invest in SaaS that can grow with your company. The longer you can stick with a SaaS provider, the greater chance you have of becoming a valued customer. This can lead to better customer support, better deals on your contract, and more!
Think about where you want your company or team to be in three years. Will this SaaS solution be a good investment in the future? Plan ahead and you can save yourself time and money when it comes to your SaaS budgeting.
Congrats! You're a SaaS master
You're ready to take what you've learned and start making better business decisions. While this model is designed for SaaS spend in particular, you can use anything you've learned here when creating a budget for your company.
To fully optimize your SaaS spend, check out our software buying guide next to make your purchasing decisions easier than ever.