Software is the lifeblood of business.
No matter what industry you're in — retail, agriculture, health, construction, finance — they all depend upon software to make the job easier, faster and more accurate.
At some point, software became a double-edged sword: both helpful and necessary, but also burdensome and even painful. As the software license agreements pile up, the vendor audits become more aggressive and the budget for software is harder to keep to, software asset management is more important than ever.
Software asset management (SAM) definition:
Software asset management is a business practice that takes ownership of software usage by monitoring: spend, deployment, software licenses, and compliance.
Software asset management for your business
Software asset management is an enormous undertaking for a business. Tracking how much software exists within a company, which employees use it, what the contract dictates and whether the company is compliant, renewals, and spend on software is exhausting. It becomes nearly impossible in a complex enterprise company.
Luckily, there's software to manage your software — G2 Track automates all of the above, making software asset management easier than ever before.
What is the purpose of SAM? The goal of software asset management is to:
Automate software discovery
Minimize software spend
Keep compliant with contracts and vendors
Ensure software is a benefit, not a detriment, to the company
There are three main pillars of software asset management: software license management, software vendor management, and SaaS spend management.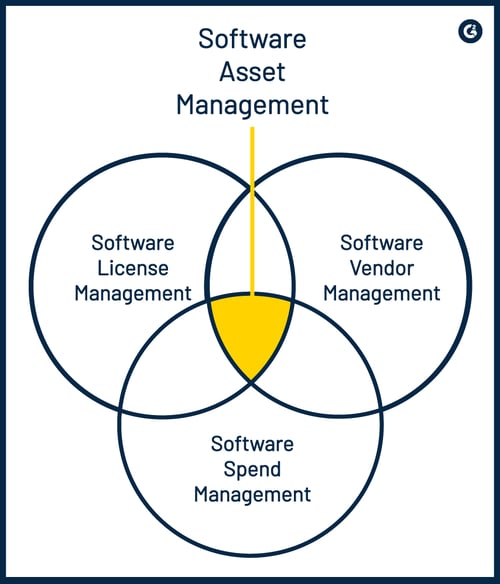 Software license management
Does anyone actually read the software license contracts when installing something on the computer? They are lengthy, complex and riddled with legal language. In order to understand, you'd need to have a solid understanding of both law and computer science, which most people do not.
Tip: Read our crash-course article on software licenses to learn more about the different types you may encounter.

Now imagine being responsible for not one difficult-to-understand contract, but a hundred. In a large organization, this is reality. How do you manage all of those licenses at once?
Spreadsheets are not the answer. They are time-consuming and prone to human error, no matter who does them. There are far too many metrics and renewals to keep on-top-of in order to remain compliant with the contract.
Not only that, but with SaaS and cloud-based software infiltrating the workplace, it's becoming increasingly difficult to track how many software licenses are truly under one company's roof. Software that can be purchased without the express approval of the IT department or organization is called Shadow IT because of how difficult it is to trace.
Creating standards for who purchases software in each business unit, how they receive approval from the IT department, and how licenses are tracked is a must.
Software vendor management
SaaS vendor management is the strategy of finding the best solutions to fix problems within a business and then introducing those solutions across the entire organization. This is done by managing application use, improving spend, and reporting on value. It also includes remaining compliant and maintaining positive relationships with the software vendors themselves.
Deciding on which solution your business needs involves thorough research while keeping your company goals in mind. G2 offers the opportunity to learn from your peers' unbiased reviews what software solutions worked best for their business.
Once you've decided on a solution, purchased and rolled it out, it becomes a matter of staying compliant. Vendors run audits to discover whether your company has been adhering to the license contract you agreed to. These audits check how you are using the software, who is using it and if your license covers everything you've done with it. If you fail the audit, it can result in heavy fees for your business.
In order to avoid a negative audit outcome, you should run your own IT audit to uncover any Shadow IT, data breaches, software piracy, outdated processes, and any potential risks, including a breach in compliance. You should also keep an eye out for underused software and duplicate licenses.
Conducting your own audit is labor-intensive and may even involve hiring an IT auditor, but you can learn all about that in our IT audit guide.
Armed with the knowledge of how your business uses software, you are more in control, rather than waiting to hear what the vendor discovers in their audit.
This way the conversation can be about how they can better serve your organization. If you're not using all the seats a contract offers, you can know that and renegotiate the price and terms of the contract.
Software spend management
Did you know: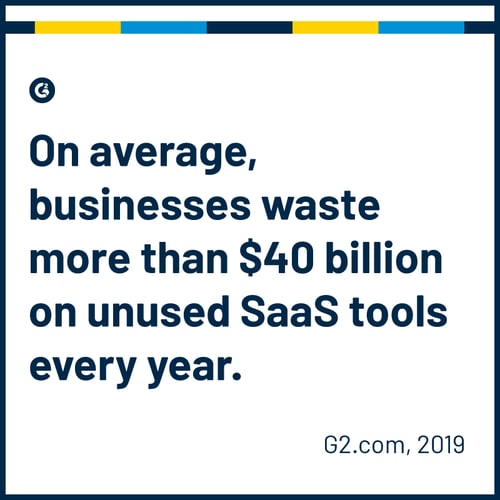 If that number shocks you, you aren't alone. Most companies aren't aware of how much they are actually spending. Shadow IT is one major problem as companies are reimbursing employees for the software they purchased without the company's knowledge. Then there's software that was purchased appropriately but is not being used to the full extent of the contract. If several seats are going unused, the best route is to eliminate those extra seats or reallocate them to another department that may need them more.
Once you have a better understanding of the software you currently use (or don't use) through your IT audit, you can effectively strategize for the future. Create a SaaS budget based on your current software licenses and the renewals you know are coming up, as well as the goals of the company in the next fiscal year and what new software will be needed to reach them.
Setting up standards for how software is purchased is important to SaaS spend management as well. It will prevent Shadow IT and any security issues that come with it, as well as unnecessary spend on unapproved licenses.
Implementing software asset management
If you're ready to take a hard look at your business' tech stacks and regain control of the software spend, here are the steps you'll need to succeed. It involves creating new company policies, conducting an intensive audit, onboarding the company to new processes, and forecasting future software spend.
1. Audit current IT
Run that internal audit of your organization to fully understand what's already installed and being used. It should reveal duplicates and what is not being used. Begin with this so you know the current state of affairs and how software is helping (or hindering) your company goals.
2. Organize your license inventory
After the audit, decide how you are going to track and store information about your software licenses. Make it as searchable and user-friendly as possible. If it can alert you of expiring licenses and upcoming renewals, even better! This will need to be updated as your software usage changes.
From start to finish, this will mean creating an inventory system if you don't have one already, moving all current license agreements and information to the inventory, organizing it so it's user-friendly, decide what license metrics you'd like to track, and train someone to use the inventory.
3. Create software procurement standards
Roll out guidelines that each employee at your company must follow in regards to purchasing software. This will help prevent Shadow IT and also act as an alert system when a new license is purchased, so you can actively keep your software inventory updated.
Successfully doing this means deciding who in each business unit is responsible for handling software license requests and creating a process for the actual purchase that involves the IT department.
4. Analyze how the current software is being used
Are all the seats being used to their full potential or are some going unused? If the marketing department has 40 seats for software X and only uses 22 of them, consider reallocating the other 18 to another department that has been wanting access. Or, renegotiate the terms of your contract and eliminate those seats.
5. Catalog your software
Catalog the inventory into types of software. This will expose any duplicates and prevent money from being wasted on two software options that offer the same thing. For example, if the company uses Asana for project management software, but an employee prefers Basecamp and downloads for personal use, the duplicate software type can be caught early on.
6. Create a SaaS Budget
Based on your current usage and the company goals, you can create a thoughtful budget going into the next fiscal year and keep your software spend in control. Here are the quick steps to successfully creating a budget.
7. Maintain strong vendor relationships
The above steps should ensure you don't get caught red-handed by a software vendor audit. This means you can move forward with more meaningful conversations about how the software can best serve your organization, and negotiate contracts based on that. The relationship should become more collaborative than punitive.
If this feels like a lot, that's because it is! There are so many moving parts when it comes to managing a business' software assets. But there are benefits to software asset management that simply cannot be ignored.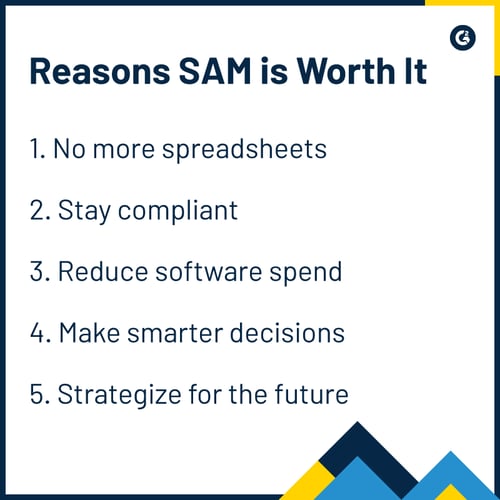 You don't have to do it alone
Trying to create guidelines and train people on software asset management can feel like an insurmountable hurdle. Let G2 Track help.
It audits your company, tracks your licenses, warns you when renewals are coming up, tracks your software spend, alerts you to which employees aren't using their seats, updates you on Shadow IT and duplicate licenses, and more.
Save yourself the headache and optimize your software usage to make your business happier and healthier. Check out G2 Track.