It's not easy navigating the complexities of software.
You don't know what to expect, especially if you're dealing with a new vendor. You can take all the free demos, discuss your needs, and calculate how much you want to spend, but it all comes down to the nitty-gritty details. And that's exactly what a software contract does.
What is a software contract?
A software contract is an agreement that outlines the guidelines for software providers, developers, and end-users on providing, developing, or using software. It includes terms and conditions on ownership, license, distribution, maintenance, support, and payment.
Use G2 Track to better understand your software contracts and renewal negotiations with its contract management suite. You can manage contract documentation, renewal dates, and overage all in one go.
But before you sign any software contract, it's essential to know what it contains. Understanding your software contract is more complex than you think, as there are many aspects to consider. You must ensure you're not only getting the most for your money but also staying within budget.
Elements of a software contract
When it comes to software contracts, there are going to be a few core elements you'll need to understand before you sign on the dotted line.
1. Usage and restrictions
The first section you'll likely encounter in your software contract is regarding usage and restrictions. This will outline exactly what you can and cannot do when using the software.
The wording in this section will look like:
Right to use: Subject to the terms and conditions of this Agreement, the Provider grants to Customer a worldwide, limited, non-exclusive, non-transferable right and license during the Term to use the Software.
Usage restrictions: The Customer may not license, sub-license, sell, re-sell, rent, lease, transfer, distribute, timeshare, or otherwise make any portion of the Software available to any third parties not authorized by this Agreement.
2. Project scope and deliverables
This element outlines expectations, like the development of specific features, the number of allowed revisions, and what maintenance services are required. It defines boundaries and sets clear expectations regarding what the parties involved are responsible for.

It serves as a roadmap for all parties and minimizes potential disputes and misunderstandings. It also ensures that the project progresses smoothly and in accordance with the agreed-upon terms and expectations.

Project scope: The Vendor agrees to provide software development services to create a custom e-commerce website for the Client. The website will include product listings, shopping cart functionality, user registration, and an admin panel for content management.

Deliverables:

The following deliverables will be provided upon project completion:


A fully functional website meeting the specifications outlined in this contract.
User and admin documentation for website operation and management.
Source code and design assets for the website.
Quality assurance and testing reports.
3. Ownership
The ownership portion of the contract is going to explain that the software company is the owner of the software. As a buyer, the contract grants you limited rights to use the software but does not grant you any rights to own any of the underlying technology or intellectual property.
"The most important thing I look for when reviewing a software contract is who owns what.
'It's critical that we don't unintentionally grant ownership of our intellectual property just because we're using a software product. so I always make it crystal clear that ownership of our data stays with us."

Sarah Mattina
Former Associate General Counsel, G2
If you are uploading or storing any of your (or your company's) information, data, or content into the software, you should make sure that the contract clearly states that you, the buyer, are the owner of that information.
Ownership of software: The Software and all copies thereof will at all times remain the sole and exclusive property of the Provider, and the Customer shall obtain no title to the Software.
Proprietary rights: Provider owns all rights, title, and interest in and to the Software. All data, information, files, or other materials and content that Customer makes available to Provider for the purpose of utilizing the Software shall remain the sole property of Customer.
4. Term and termination
This portion of the software contract will detail how long the contract is valid. It will also detail what occurs when the contract ends and if someone has the right to end it earlier than previously agreed upon.
With software contracts, the "term" provides some guidance for when and how a contract will end, referred to as "termination".
Common terms in a software contract
How long the contract will last
How the parties involved can extend and/or renew it
What happens when/if the user no longer wants to use the software
Term: This Agreement is effective for 12 months after the date of the last signature. This Agreement will automatically renew for an additional 12-month term unless one party gives at least 30 days prior written notice of termination.
Termination: A party may terminate this Agreement for cause (i) upon 30 days written notice to the other party of a material breach if such breach remains uncured at the expiration of such period, or (ii) if the other party becomes the subject of a petition in bankruptcy or any other proceeding relating to insolvency, receivership, liquidation, or assignment for the benefit of creditors."
5. Fees and payment
This portion of the software contract will detail the price in dollars – or other currency – of your purchase and will typically be located on the order form in addition to the payment terms. As an example, your contract may include details regarding a predetermined "late fee" if you're late on making payments.
This portion can also state that the software provider can suspend your access to the software if payment conditions aren't met.
Fees: The Customer will pay all fees specified in the Order Form. Fees invoiced and paid are non-cancelable and non-refundable. If any invoiced amount is not received by the Provider by the due date, those charges may accrue late interest at the rate of 1.5% of the outstanding balance per month, or the maximum rate permitted by law, whichever is higher. If any fee owed by the Customer under this Agreement for Software is 30 days or more overdue, the Provider may suspend your use of Software until such overdue amounts are paid in full.
6. Indemnification
Indemnification can be one of the most confusing parts of any contract, not just a software contract. It may be easier to understand the concept by using an example.
Let's say you've purchased accounting software for your business. In the software, you store all of the payment information of your customers. Through no fault of your own, the software provider has a data breach, and a hacker is able to access all of your customers' payment information. One of your customers sues you, claiming that you were responsible for their payment information or other confidential information being compromised.
If your contract with your software provider includes an indemnity provision that covers "any negligent act or omission," your software provider will likely be obligated to pay the costs associated with your customer's lawsuit since the data breach was their fault, not yours.
Indemnity provisions are used to determine who will pay for claims brought by third parties against one party when the issue underlying the third-party claim is actually the responsibility of the other party.
Indemnification: The Provider will indemnify, protect, defend, and hold harmless the Customer from and against any and all claims arising out of, involving, or in connection with any negligent act or omission of the Provider.
7. Confidentiality and data protection
Data privacy is paramount in today's digital business environment, making confidentiality and data protection key elements in software contracts. It's essential not only for protecting sensitive information but also for maintaining trust with users and complying with data privacy regulations.
These elements provide a legal framework for handling data responsibly and can mitigate the risks associated with data breaches and non-compliance.
Confidentiality clause: Confidential Information refers to any and all information, data, documents, materials, and trade secrets, whether written or oral, disclosed by one party (the "Disclosing Party") to the other party (the "Receiving Party") in connection with this Agreement. This includes, but is not limited to, proprietary software code, algorithms, business plans, financial data, and customer lists.
Data protection clause: Both parties agree to implement appropriate technical and organizational measures to safeguard personal data from unauthorized access, disclosure, alteration, or destruction.
Types of software contracts
Software contracts can take many different forms, each designed to address different aspects of software development, distribution, and usage. But there are four common forms of agreements:
Software license agreement
This contract is used when a company that owns the rights to certain software (licensor) and authorizes a third party (licensee) to use it in exchange for a price. It defines the terms under which software can be used, including the type of license (e.g., proprietary, open-source), restrictions, and payment.
The main feature of this type of agreement is that the licensor still owns the software. This means the granting of the license does not include transferring the ownership of the software.
Software distribution agreement
This agreement is used when a software developer or vendor (licensor) licenses their software to distributors or resellers (licensee). It outlines distribution rights, pricing, and marketing responsibilities.

The agreement also includes specific clauses to ensure that the Licensor has control of the software licenses granted to the distributor and that the granted intellectual property rights are used in compliance with established terms and conditions.
Software development agreement
This type of software contract is used to provide custom software development for clients. It's a legal document that defines the terms and conditions of custom software development, including project scope, deliverables, timelines, payment terms, and intellectual property rights between two or more parties.
Under this agreement, the ownership of the software is transferred to the client. It also contains clauses like developer responsibilities, phases of the development, payments, warranties, confidentiality, copyright, etc.
Software maintenance agreement
This type of agreement is complementary to other contracts mentioned above. It details the terms for ongoing software maintenance, including bug fixes, updates, and technical support. It may cover costs, response times, and service levels as well.
This type of contract is crucial for ensuring that software remains functional, secure, and up-to-date throughout its lifecycle.
Software contract negotiation
Now that you know what to look out for when buying a software contract, let's dive deeper into the ways you can negotiate your software contract before you approach the delivery date. Failing to negotiate your contract could result in you paying more than you need to, plus ending up with more or fewer licenses than necessary.
At the end of the day, negotiating a contract for a SaaS application is all about minimizing your risk, whether it is in terms of performance protection, security protection, or simply making sure that both parties are in complete agreement with what to expect from the other.
While it's good to know where to look for usage rights and restrictions and what indemnification rights you may have or owe, at the end of the day, you need to be prepared to negotiate those pesky commercial terms that are layered into the legal terms and are often harder to pick out but can have important consequences once you're committed to the software.
Things to negotiate in your contract
Let's break each of these down further.
The business terms of a contract
As you begin negotiating pricing and payment terms and establishing a business relationship, remember that many software providers will ask for and prefer an upfront payment. As the buyer, you may prefer to make monthly payments.
If you have the cash flow, you could ask for a discount in return for an annual upfront payment, and many software providers are happy to make that deal. Other times, a software provider may offer you unlimited usage if you pay upfront instead of paying a monthly or quarterly "package price."
Additionally, ask yourself if you need help implementing the software within your operating systems. It's common for a software provider's first offer to include some implementation services for a set time frame. If you think the end users involved can set it up themselves, ask for those services to be removed.
It's important to remember that some software products must be implemented by trained professionals. Ask the provider if you can get bundled pricing in exchange for more favorable payment terms.
Lastly, consider how long you think you'll use the software. Will you need it for just one year, or would you like to use this software long-term? If you are confident that the software suits the needs of your business and will continue to do so for many years to come, you may want to commit to a longer contract term to secure more favorable pricing.
Alternatively, if you're not ready to commit just yet, you can ask your software provider to put a price increase cap on your contract documents. This is a clause that states that when/if you renew, your price on your renewal will not go up by more than a certain dollar or percentage amount.
What happens when you want to cancel
While you hope the software you've chosen suits your needs perfectly, despite your best efforts, there may come a situation where the software you've purchased no longer works for you. In that case, unless you are at the end of your contract term, you'll need to know how and if you can cancel your contract.
If this is the case, you can negotiate a "termination for convenience". This means that at any time, you can contact the software provider and explain that you want to cancel your contract free of any penalties.
However, carefully consider if you want the provider to have the same right. Would it be detrimental to your business if, with only 30 days' notice, you weren't able to use the software you had purchased?
If you aren't able to get your software provider to agree to termination for convenience, you may want to lay out what pre-conditions might occur that should permit you to terminate.
Common "termination for cause" examples include bankruptcy and breach of contract. For example, a breach of contract would be that you can't access and/or use the software as promised per the contract. There's also "force majeure," which is French for "superior force" and covers what are considered acts of God, meaning tornados, floods, earthquakes, or other natural disasters.
Most importantly, and regardless of whether or not you are terminating your contract for convenience or "for cause," try to confirm with your software provider that you will receive a refund of any pre-paid fees.
5 contract management tips
All of these things will help you negotiate a better contract when it comes up for renewal the next time around and ensure your business gets the most benefit from its software budget.
1. Assign a contract owner
When all is said and done, and the contract is finalized and signed, it's in your best interest to assign someone as the contract owner, especially if the software is specific to a certain part of your business. This person will be responsible for making sure that the software does what it's supposed to do and that all payment arrangements, renewals, and general oversight are taken care of.
Assigning an owner of the contract is made simple and convenient when you utilize G2 Track. With the easy-to-read dashboard, G2 Track creates a seamless place to see not only who the owner of the contract is but also the billing cycle and when the contract is up for renewal.
10-15%
of a company's software stack doesn't have a clear owner, contract, or approval.
Source: G2
2. Keep contract documentation in one place
In addition, when managing your software contract, make sure that all of the security or privacy compliance certificates are being maintained in the G2 Track dashboard.
One of the great aspects of utilizing G2 Track is that it manages contract renewals for you. With all of your contracts in one dashboard, contract expiration and renewal dates are easy to manage – as well as all relevant details and terms. G2 Track will alert the right people when contract action is necessary. You'll also be able to go back in time on past software development contracts for a full view of everyone you've worked with.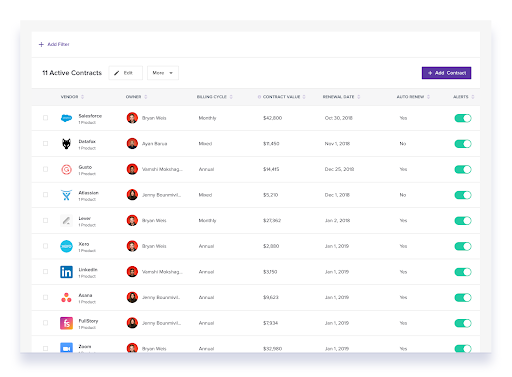 3. Set up alerts for important deadlines
As you take advantage of all that G2 Track has to offer, you can also set up alerts for important dates or deadlines associated with your contact and the software license, like when it's set to end or auto-renew.
These alerts will also detail the notice periods you have for each of your software contracts. Because of this, you'll never miss renewals for the software your team is actively using. In addition, you can also set up alerts when new products are added to your tech stack and when spikes in spending occur.
Remember, if you've agreed to a late fees clause, any delays in making payments may cost you more money than you expected to pay for the software. Do you need to provide "notice" (telling your software provider something, usually formally in writing) 30 days prior to the end of your contract that you do or do not want your contract to renew? If yes, then alerts are sure to come in handy.
4. Understand how the software is being used
It's one thing to think your team likes the software being used, but it's another to know. In fact, six out of 10 employees aren't reaching their full potential due to ineffective software at work.
As you manage the software your team is using, G2 Track lets you see if your team is getting the total value out of the software by showing which programs your employees are using and how often. If you see unused licenses or seats within the dashboard, you may be able to save some money by reducing the number of licenses you are paying for under your contract.
With this data at your fingertips, you'll know if any current software can be considered obsolete and which is considered critical to the success of your business.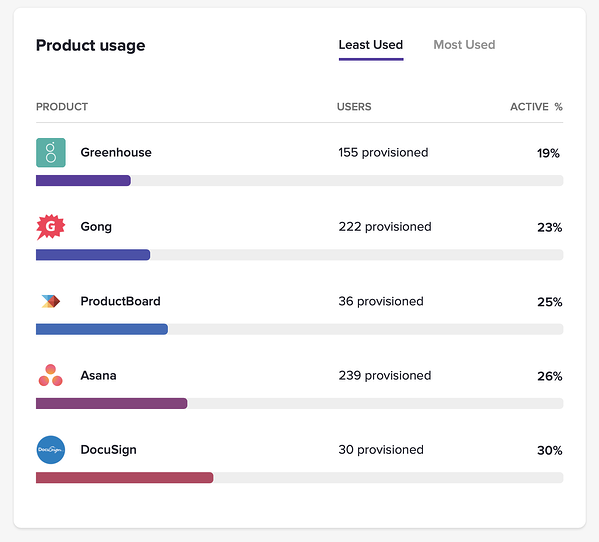 5. Understand your spending
Did you know that an estimated $40 billion is spent on unused software each year? When you utilize G2 Track, wasted spending is a thing of the past.
In addition to software use, G2 Track also keeps tabs on your products and spending by department, as well as identifying opportunities to increase cost efficiency. Thanks to its world-class integrations within your financial systems, G2 Track easily accomplishes this by looking at what is being spent within your budget.
G2 Track dashboard shows:
Which tools you're using, and where can you consolidate
A pinpointed look at your average monthly cost per employee and cost by department
Monthly summaries on past charges and future spend
G2 Track makes taking inventory of your resources simple and concise by syncing with your company's financial data. When this occurs, you'll be able to know how much of your budget is being spent on each product on a monthly basis.
Click to agree
Once the contract is signed and the software is yours to use, it should be smooth sailing from here on out. Until, of course, you need to decide if you'll renew once the contract is up.
To make everything after you purchase a software contract completely seamless and hassle-free, look no further than G2 Track. With every contract in one easy-to-read dashboard, you'll never lose track of another contract or forget any relevant details and terms.
Best of all? G2 Track is free, so it's time to sign up and get all of your contracts in order.