There's a software solution for everything. So, how can you tell which ones you really need?
Software as a service (SaaS) has become one of the fastest-growing markets since the tech boom of the 2000s. We're talking more than just email and instant messaging. Everything from employee engagement to nonprofit fundraising has top of the line software associated with it.
No matter your industry, there's a software solution you'll need to run efficiently. How can you go about choosing the right software for your needs?
How to purchase software:
Understand your business needs
Create your list of must-haves
Consult online reviews
Create a short-list
Demo your software choices
Purchase your top choice
Monitor the success of your purchase
Interested in the right way to purchase software? This guide will walk you through every step you should take when making your decision. Let's get started!
A beginner's guide to purchasing business software
The journey from deciding you need new software to making a final purchase is a long one. It can take months to comb through your options, test the features, and sign on the dotted line. We've decided to help make the process a little smoother with this handy step-by-step guide to purchasing business software.
1. Understand your business needs
The most important step for buying software is understanding your business needs. You wouldn't purchase an email marketing platform if you weren't planning on investing in email for the next fiscal year. Think critically about what you're hoping to accomplish. Do you need this software or is it something you want?
Ask yourself these questions to best identify your business needs:
What are our business goals for the next fiscal year?
Where are we growing? Where are we staying the same?
How will the right software impact our company?
What does the budget look like for software spend?
What does success look like for our business?
Once you answer these questions, you can reverse-engineer your answers to pinpoint your software needs. This step also helps you make the case for a larger SaaS budget because it helps prove how this software impacts the company as a whole.
2. Create your list of must-haves
The next step in the process is creating your list of must-haves. Think of this as your Christmas list for your ideal software solution. It can include everything from functionality, cost, and more. Make the list as long as you'd like when you're first starting out and then prune it down to the things you absolutely need. This list will act as your guide when you begin reviewing software options.
When creating your list of must-haves, consider these questions:
How accessible is it to my employees?
Can we afford this solution?
Does the company aid in implementation?
What kind of support can we expect?
What additional features does it offer?
What business problem does it solve?
There's a lot more to purchasing software than just how much it costs you. Avoid the mistake of hyper-focusing on the price of the software and expand your thinking to include the value of the software.
Software price vs software value
One mistake people often make when purchasing software is confusing software price with software value. Obviously, the price of software is a huge factor when purchasing software. But the value that software brings to your company is often overlooked.
Here's an example of the difference between software price vs software value: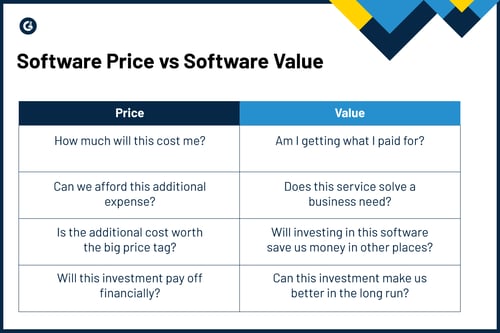 If you can change your thinking around what makes a certain tool or app good for your company, you can truly understand your business needs. Not everything can be driven by money. Sometimes you need to spend a chunk of change to push your business forward. Consider this when beginning your software purchasing journey.
3. Consult online reviews
Do we purchase anything these days without looking at the online reviews first? Studies show that we don't.
82%
of customers visit review sites before they purchase a service or product.
Source: RevLocal
And yes, there are online review sites designed exclusively for software purchases. Since our launch in 2011, G2 has amassed more than 1 million user reviews from real customers.
These are verified reviews from people using the software you're thinking about purchasing! They review the good, the bad, and the unexpected for nearly any software solution you can think of. And if you don't know what software solution you're looking for, you can browse by category and compare software products side-by-side.
Online reviews can help you cut through the marketing noise and see what it's like to use a certain software solution. Maybe the interface looks clean but the customer service is bad. Or maybe the product over-promises and under-delivers. These are things you can glean from user reviews.
4. Create a short-list
You've created your list of must-have features, found the products that have them, and reviewed the user reviews online. Now it's time to create a short-list of products that will work for you and your team.
Here's a quick and easy way to create a short-list:
Eliminate the products that are outside your budget
Cross off the products that don't have the features you need
Finalize the list of products that are still viable options
Rank them in the order you think would work best
How you order your short-list is up to you. You can rank them by price, usability, user reviews, and more. Just remember that this list can change as you dig into these products more. Keep an open mind throughout the process!
5. Demo your software choices
This is the fun part, it's time to start testing your top choices! You wouldn't buy a car without test-driving it first and you shouldn't use a software without scheduling a demo. Any software company worth their salt will let you demo their product before signing a contract.
Visit the websites of each of the products on your list and schedule yourself for a demo. This step is interesting because it's the first glimpse you'll get into a company's customer service style. Is it easy to schedule a demo? Are they too sales-focused? Keep track of the things you notice about the company itself during this stage of the process.
And remember, you don't have to make a decision right away. Shake off the pressure to sign a contract and test all the demos for the full trial period. Ask your employees for feedback. Consider sending out a survey to get their honest opinion. This is the stage where big decisions get made.
6. Purchase your top choice
Once you've demoed all the options on your short-list, you'll likely have a favorite. Now there's nothing left to do other than sign the contract. Purchasing software involves a lot more than just handing over your payment information. There are six-steps to the contract management process needed to purchase business software.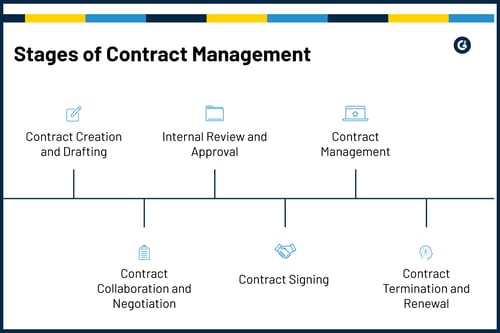 If you're investing in a SaaS spend management tool, there's a chance that contract management is built into the platform. You can eliminate duplicate software by choosing the right software to manage your SaaS budget and spend, like G2 Track.
7. Monitor the success of your purchase
There's no point in taking all of these steps if you're not going to track the success of your purchase. What does success look like for business software? It depends on what your business needs were. Think back to when you first started this journey. Is this software solution solving a problem for you?
Here are some questions to ask yourself to measure the ROI of your purchase:
Are we benefiting enough from this software to justify the cost?
Will this software solution grow with us?
Does this software perform the job we were promised?
Do our employees enjoy using this product?
Are we getting enough customer support?
Is this software moving us toward company goals?
If the majority of your answers to these questions are no, then it could be time to explore other options. You might not pick the right software on the first try and that's okay! Monitoring your progress and being able to learn from your mistakes will help guide you toward the right solution.
Software buying made easier
Congratulations, you know everything you need to about buying the right software! This process is yours alone and your unique business needs will guide you. Be open and communicate with everyone in your company to ensure you're making the right decisions.
Purchasing software is just the beginning. Discover how to manage your business' software stack with our guide on software asset management.